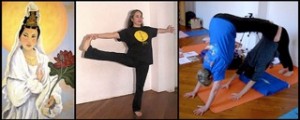 Bobbi's Yoga Teaching Style
Bobbi Ponce-Barger's style developed from her in depth study of two major lineages of yoga made available to westerners in the past century; that of the teaching of Sri Swami Sivananda Saraswati of Rishikesh, India and by Sri Tirumalai Krishnamacharya of Chennai, India.
She combines her yoga teaching with her understanding and experience of Western and Chinese models of health care and treatment, and she also enjoys tailoring her teachings to the individual needs of the students with whom she works.  She has been greatly influenced be the methodology and yoga philosophy of Sri Prudence Kestner.
Her personal yoga practice lead her eventually to Zen practice.  She met and began studying with her Zen teacher Dairyu Michael Wenger Roshi at Tassajara Zen Mountain Center in 1999.